New data released by illion and AlphaBeta, part of Accenture, has confirmed that spending in Australia has skyrocketed to 17% above normal levels, driven by:
  The massive cash flow impact of early withdrawal of up to $10,000 in superannuation money; and
  The impact of $750 Stimulus payments that will shortly arrive in the bank accounts of 5 million Australians as part of the next round of Stimulus payments.
The new data has revealed that almost all of the growth in spending above normal levels was due to Stimulus and Super. When those who were eligible for the Stimulus and received Super were removed from the sample, average spending was actually 2% below normal levels.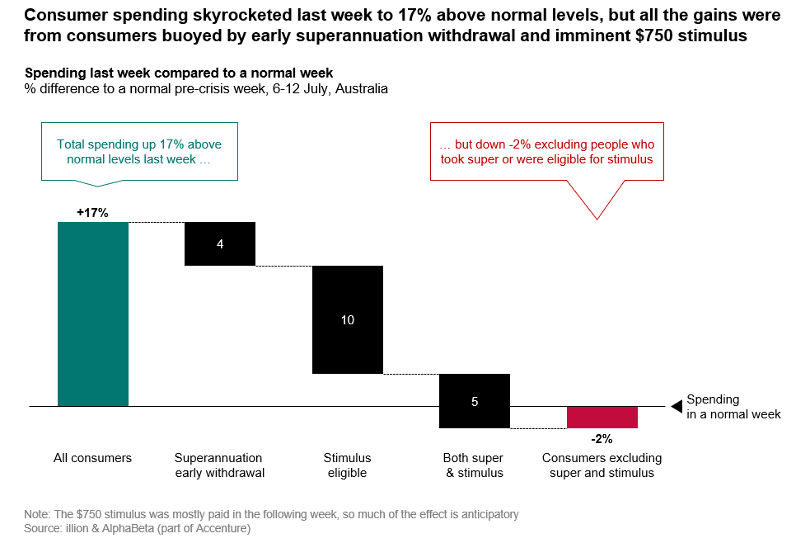 This is a good sign because it means spending is almost at pre-COVID levels from those who did not receive government support.
Panic buying before the second lockdown in Victoria has buoyed spending in that state, and has helped arrest the steep falls we will likely see next week.
This data covers 6-12 July, which includes four days of the full Melbourne lockdown and NSW closing the border.
There has been a significant improvement across category spend in Australia from 9 weeks ago:
  Gyms and fitness have moved up 70 points to 25% below pre-COVID levels
  Public transport continues to improve slowly, up 23 points to 57% below pre-COVID levels
  Department store spending continue to help the economy, now up 54% from pre-COVD levels.
Spending in Victoria is around 15% below other states.
Panic buying in Victoria buoyed spending and helped arrest the plummet, likely to be seen in next week's dataset.  NSW, Western Australia and Queensland are all back to pre-COVID levels, which can be attributed to restrictions being removed (WA) and school holidays (NSW).
Consumer spending across all states except Victoria has skyrocketed and this is due to Stimulus and Super payments. The most interesting part of this data is that while Super and Stimulus payments have accelerated spending, we are now also seeing spending creep up to pre-COVID levels from those who did not receive such support.
The signs of consumer spending in all states except Victoria is very encouraging. Once Victoria gets through this second wave – and assuming it is contained within the state – we will almost certainly see spending increase across all states.
Further high-level summary data is available here.
See what the press are saying