Earlier this week, the corporate regulator issued a COVID-19 warning to company directors ahead of this year's reporting season.
ASIC chair James Shipton said disclosures had never been more important and assumptions needed to be realistic. The regulator also extended the deadline for both listed and unlisted entities to lodge financial reports by one month.
But is one more month going to resolve questions on the timing of the economic recovery and help everyone make meaningful forecasts? We expect not.
Keep your finger on the pulse
To make meaningful predictions, companies need to be across all the warning signals.
The interdependency between suppliers and customers means data insights on those metrics are a good place to start. What has happened to them and what could happen to them in future, will have a material impact on your business.
Looking out for the first signs a business is going into difficulty is a sure way to stay one step ahead and make informed decisions.
The very first indicator that a business or customer may be in trouble is when it starts to delay paying its bills. But importantly, this may not necessarily be your bill.
With that in mind, the COVID-19 crisis has meant it has never been more prudent to keep your finger on the pulse on the broader payment patterns in Australia.
So what is happening right now?
The canary in the coal mine: the worst is yet to come
Business to business/ trade late payments across the entire Australian marketplace have shown the sharpest rise in a decade.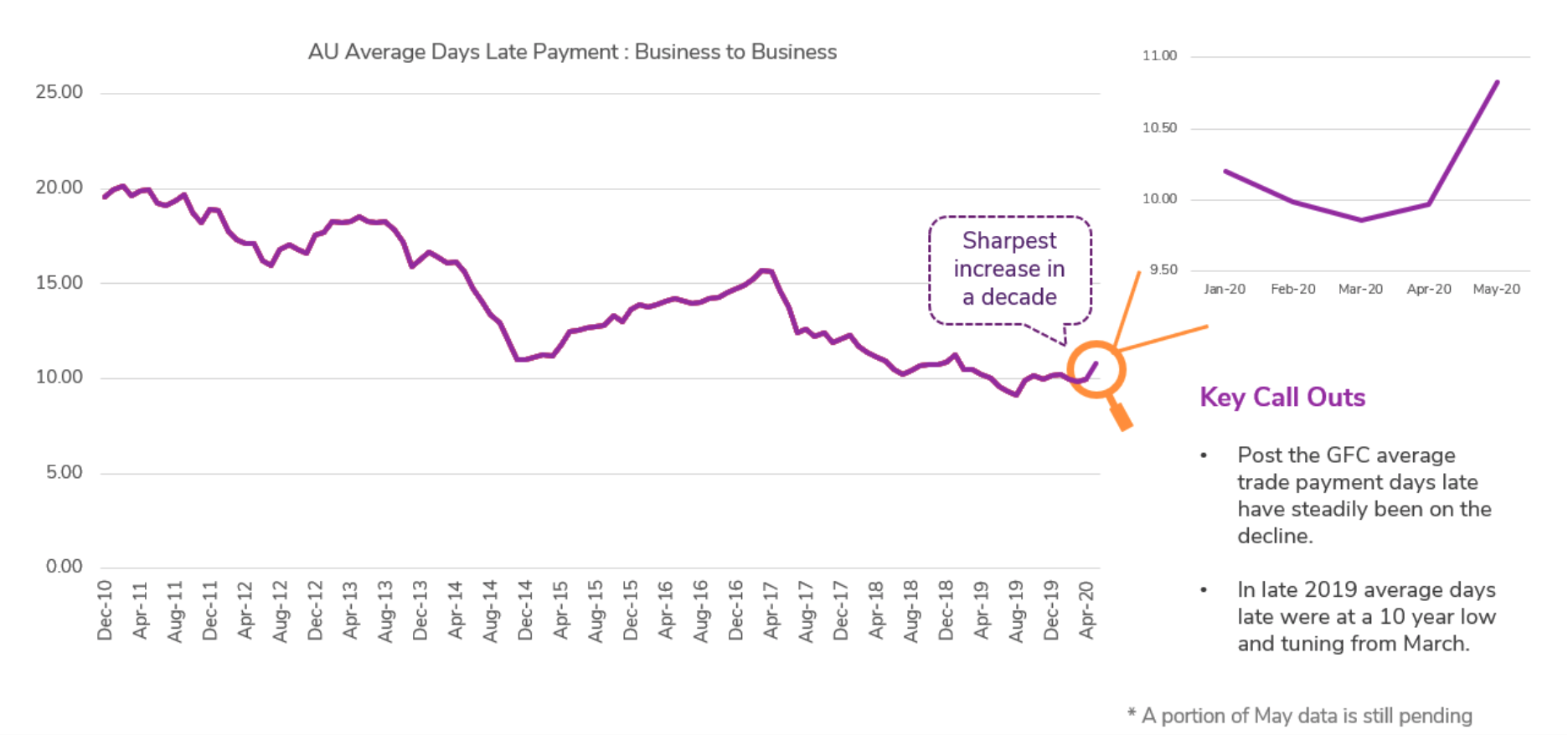 As you can see from the above graph, payment delays have been coming off historic lows of around 10 days (March 2020.

Prior to April 2020, trade late payments had been improving steadily since the GFC.

illion has been monitoring trade late payments for decades and can confidently call-out major inflection points and their possible ramifications.

Trade late payments is a telling sign of things to come, and we expect to see payments rising to GFC levels in the year ahead - about 25 days late.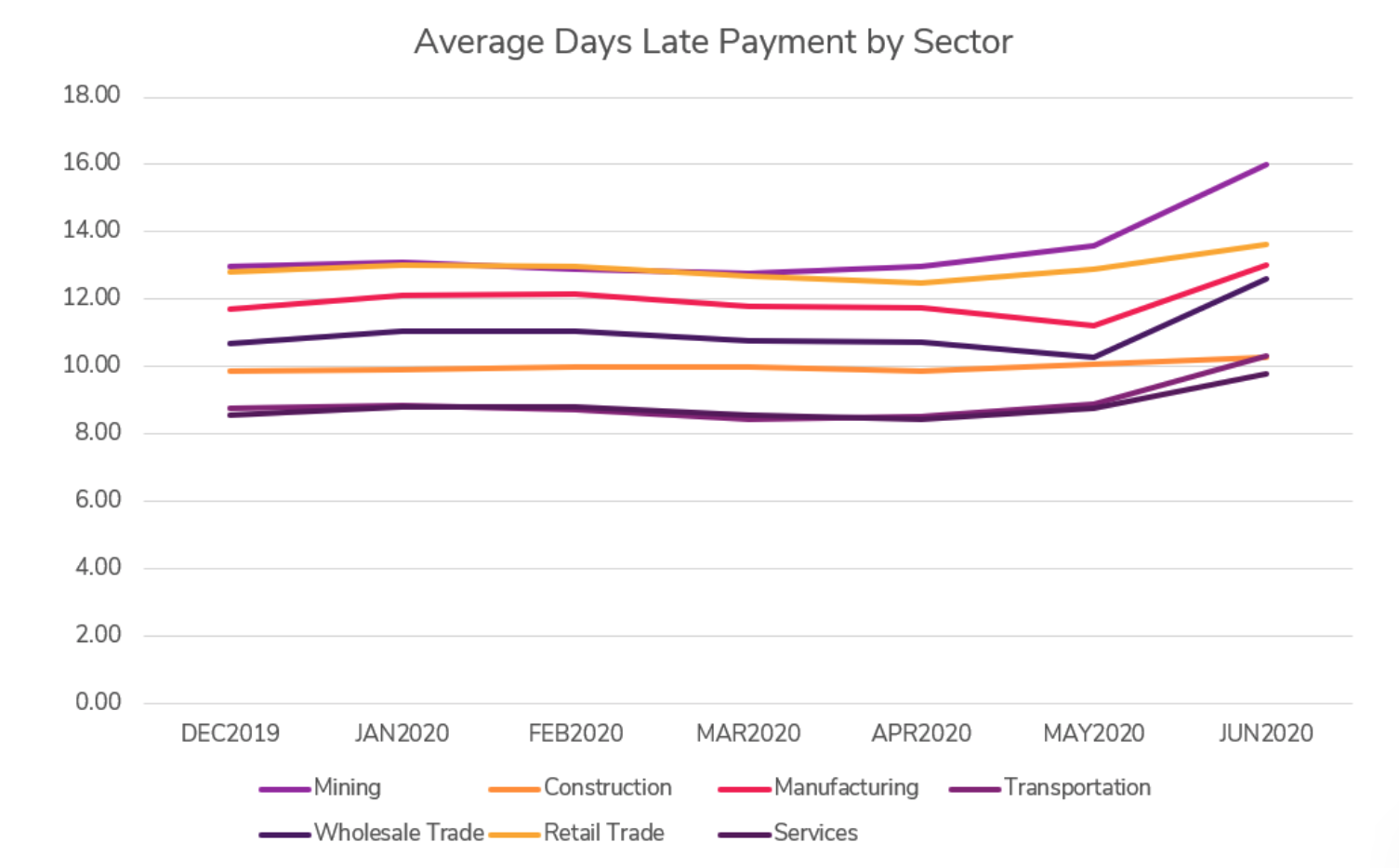 The 'Average Days Late Payment by Sector' chart shows a sudden increase in late payment days across most sectors, in particular mining (now 13.6 days late), manufacturing (now 11 days late), transportation (now 9 days late) and wholesale trade ( now 10 days late). This is despite public commitments from many large companies in some sectors to pay smaller suppliers on time, if not earlier.

Late Payments analyses trade information from illion's Commercial Bureau, the largest database of business-to-business payment information in Australia and New Zealand.

It is a highly predictive data set and a critical element in credit risk scores and business failures forecasting.

We will be hosting the AICM's next webinar on Wednesday 15 July 2020 at 11am AEST. Our CEO Simon Bligh will delve into our latest consumer and commercial insights and discuss how to make sense of payment patterns, and what it means for your business.

To reserve your place, please sign up below.
AICM Webinar
Learn about the latest payment patterns in the market and what this means for your business.
About illion
As the leading independent provider of trusted data and analytics products and services in Australia, illion is your perfect partner in these uncertain times. We leverage consumer and commercial credit registries, which comprise data on over 24 million individuals and over 2 million commercial entities, to provide end-to-end customer management solutions to clients in the financial services, telecommunications, utilities and government sectors.