At illion we have been assessing the risk to Australian businesses for over 130 years and there are four key barometers we watch:
The state of the Australian Receivables ledger and hidden risk
How fast companies pay each other
The amount of business start-ups, and
The amount of tendering
We are seeing rapid changes in all four measures.
'Hidden risk', the debt from people who are currently paying you on time but are exhibiting risky behaviour in the market, has increased to 6% of debt – a very sharp rise.
Hidden risk is the key risk, where the increase in receivables and bad debt will originate, and is something illion can help to identify and manage.
The state of the Australian Receivables ledger and 'hidden risk'
As well as monitoring late payment, it is critical to examine the risk in the ledger. Each month illion receives thousands of Receivables ledgers and we have aggregated them and analysed by risk to show our view of the risk and opportunity on the Australian balance sheet.
Pressure in the system is building with the age profile of overdues deteriorating on prior year, and a dramatic increase in the risk of customers who may currently be paying on time.
We can provide these analyses through our Portfolio Insight product for an individual Accounts Receivable ledger so that our customers can understand their risk and opportunity to maximise cashflow.
Ageing of March 2019 v 2020 debtors ledgers within illion Trade Payment Bureau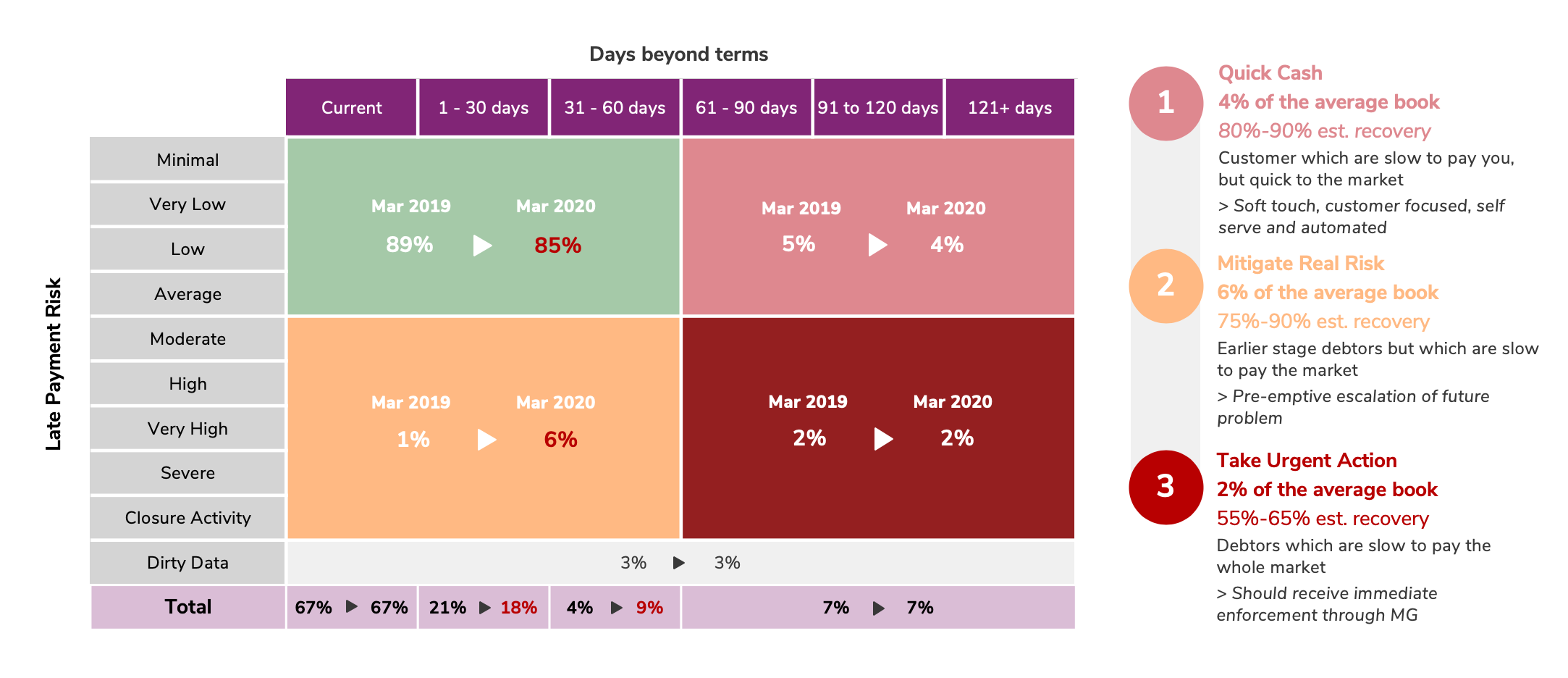 The four quadrants on this chart show;
‣ In Green – low risk; customers paying you and the market on time. The percentage of debt in this quadrant has declined from 89% to 85% in the last year.  Use digital collections to efficiently collect.
‣ In Orange – hidden risk; the debt from people who are currently paying you on time but are exhibiting risky behaviour in the market, to 6% of debt - up very sharply. Understand who these customers are and focus your internal collections efforts here.
‣ In Pink – cash opportunity; the debt that is not paying you on time but is paying the market on time. Broadly stable at 5% of debt.  Focus your internal collections efforts here.
‣ In Red – recovery focus; customers who are consistently exhibiting slow payment behaviour with you and the market. Around 2% of debts.  Use external help to collect.
As previously mentioned, hidden risk is the key risk, and is where the increase in receivables and bad debt will originate.
How fast do companies pay each other?
illion has the largest Trade Bureau in Australia and has tracked how fast companies pay each other for the last 25 years. Pre-COVID, the Australian late payment index was near all-time lows of around 10 days.  This compares to a post GFC high of around 25 days. As the chart below shows, it takes around a year for the index to improve by a day, and changes are quite gradual.
AU Average Days Late Payment: Business to Business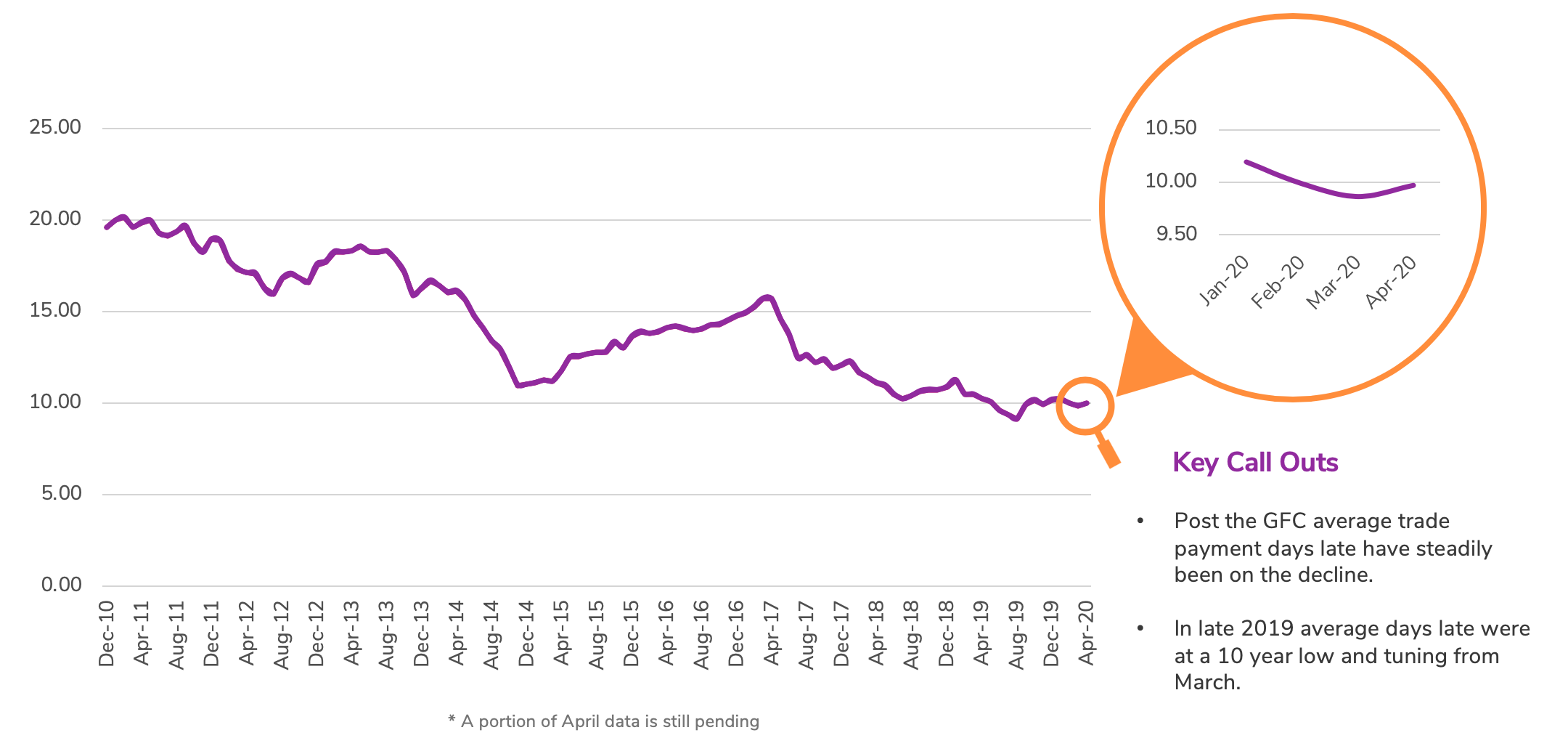 The chart above demonstrates an end to a ten-year low in late payment times following the impact of the COVID-19 pandemic from March 2020.
Average Days Late Payment by Sector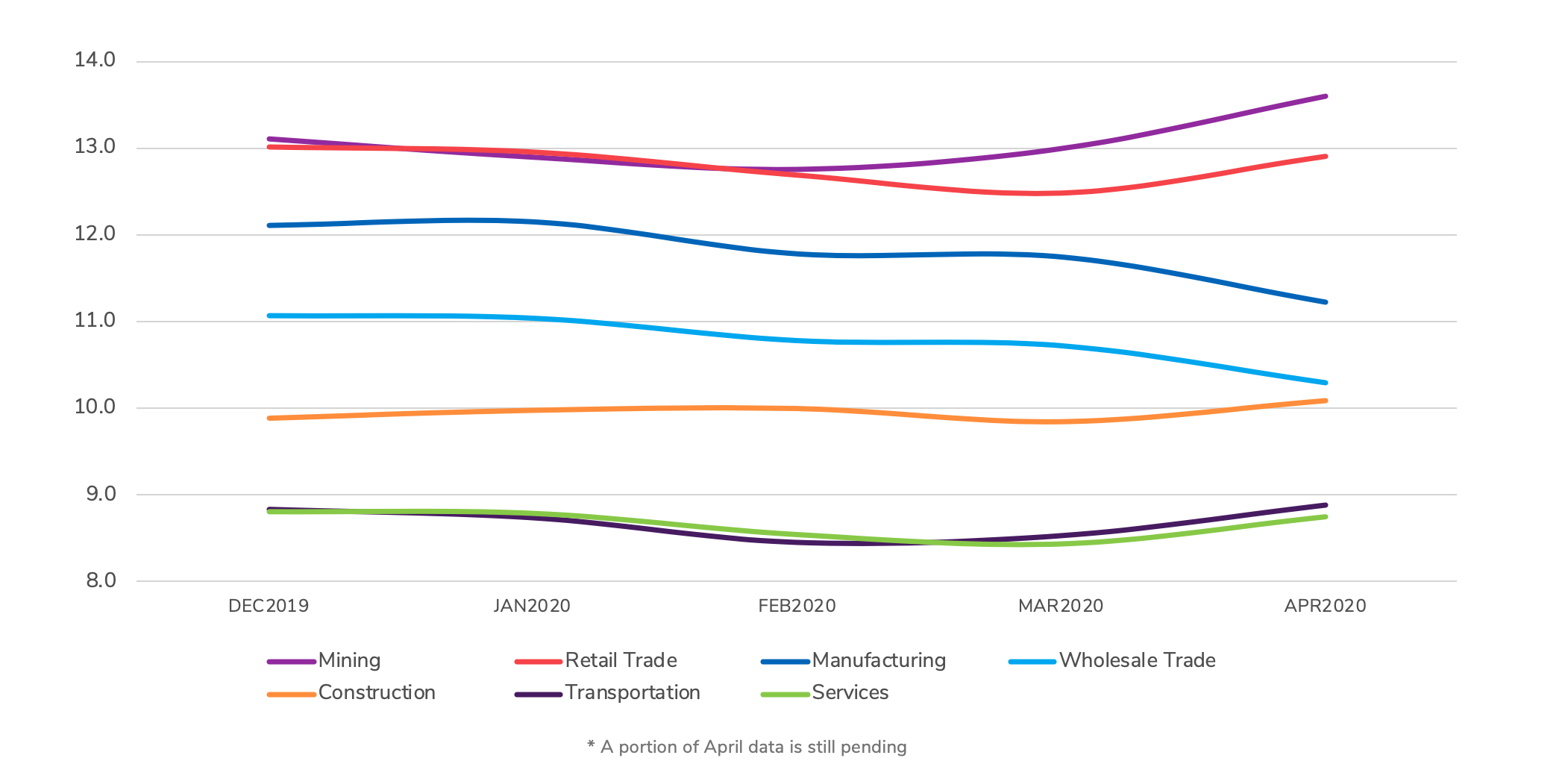 Illustrated in the above chart, there has been a sudden increase in late payment days in most sectors, apart from manufacturing and wholesale trade.  Of note is the retail trade sector, which increased by more than 3% between March and April 2020.
We are bracing ourselves for a rapid deterioration in this index and we expect late payment times to double over time.  The full effect of the deterioration will likely not be seen until corporate tax deferrals come to a halt in the December quarter.
It would be prudent to factor into your planning an increase in your Day Sales Outstanding (DSO) of around 10 days, with the consequent negative impacts on cashflow.
The amount of Australian new company start-ups
Putting aside seasonal dips and troughs, the chart below shows ASIC listed new company registrations in Australia have dropped to their lowest levels for an April period since 2012.
Over time we see about one third of business start-ups register for GST – those businesses are the life-blood of the economy and they are in sharp decline.
While seasonality can be seen in new company start ups, they are trending toward 2012 levels
Australia New Company Registrations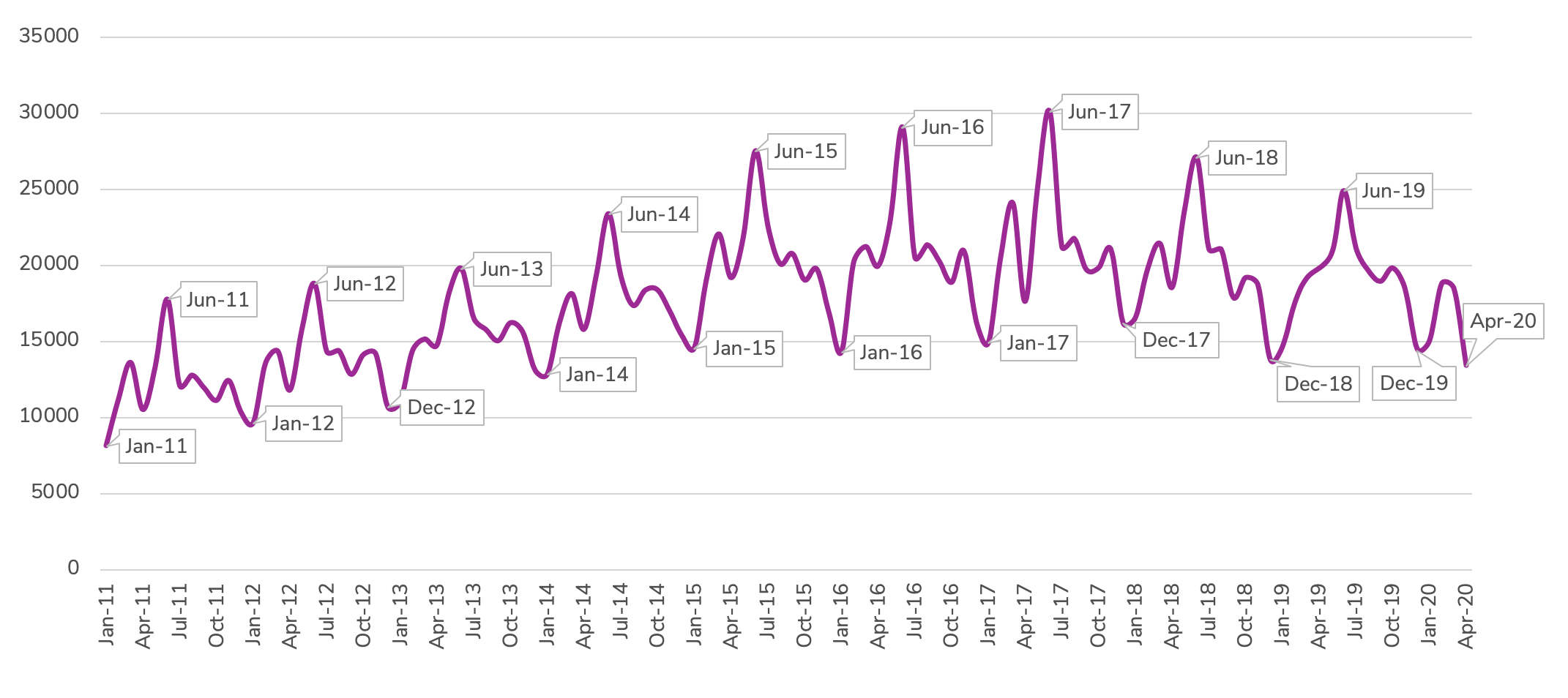 Tendering activity
Looking at our fourth key barometer, the amount of tendering, we are seeing there has been a drop off in businesses going to tender with both private and public tenders.
Excluding holiday periods, the figures in April 2020 are at their lowest levels in 18-months. Over the next few months we expect to see an explosion in tendering from government, along with increased private sector tenders as companies look to reduce costs.
Despite the level of tendering being un-seasonally low our illion TenderLink business is seeing significant increases in companies looking to fill depleted order books by responding to tenders. Competition is intense.
Baselined to October 2018, while some seasonality can be seen, published tenders are at an 18 month low (excluding Christmas and New Years).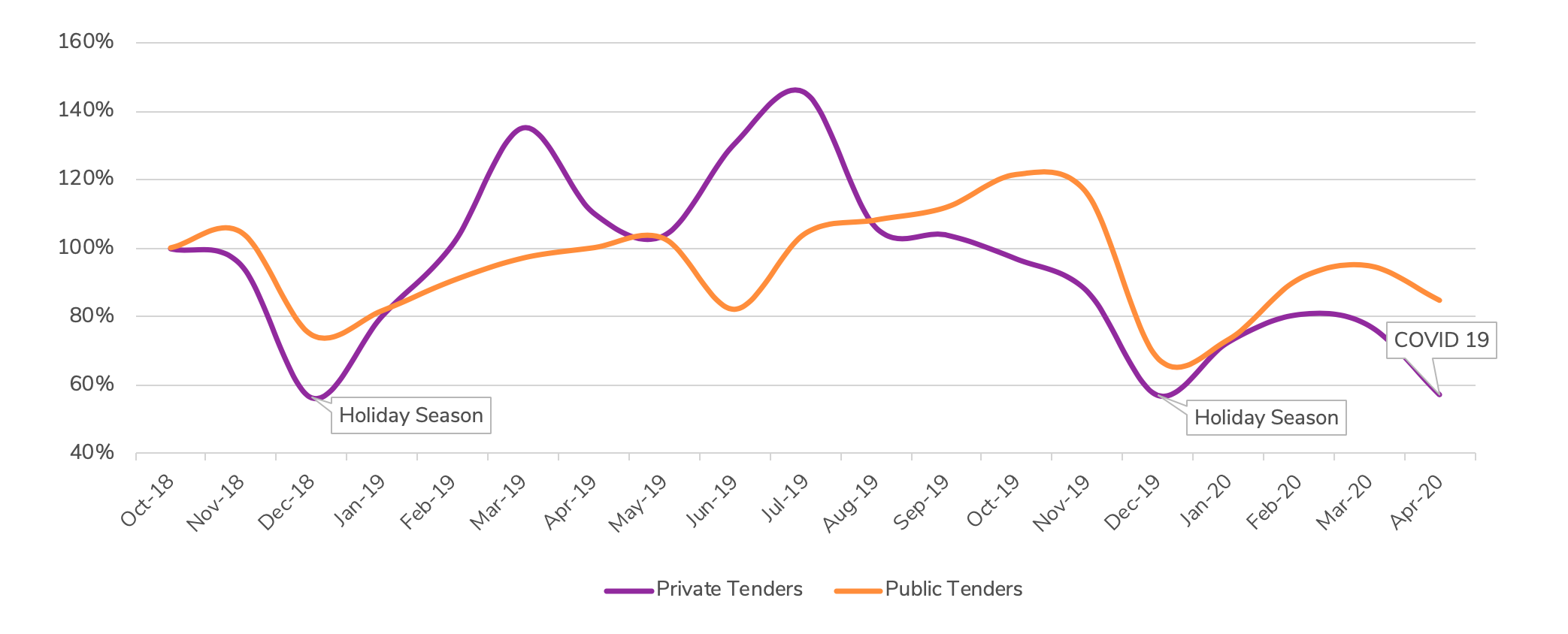 In conclusion
This needn't be a zero-sum game where your customers do not pay you and you don't pay your suppliers. There are things that your business can do to protect itself.  Information is power, and by being aware of the risk of your customers, your suppliers and acting quickly, companies can navigate successfully through these challenging times.
Below we lay out 10 key strategies to help you manage risk.
10 strategies to manage risk
Manage your business through these volatile times with high velocity data driven insights.
Understand the risk of your portfolio. In particular understand your hidden risk.
Monitor your portfolio so that you are the first to identify changes in risk.
Get ready for an economic downturn – plan for a doubling of overdue accounts.
Drive the adoption of technology in early stage collections – email, text and purely digital interactions.
Focus collection strategies on both the easy-to-collect debt and the hidden risk.
Use external help to collect the old, risky debt.
Make sure your customer and supplier data are accurate.
Use tendering to reduce your cost.
Don't miss an opportunity to fill your order book by responding to a tender.
Read More About Commercial Risk